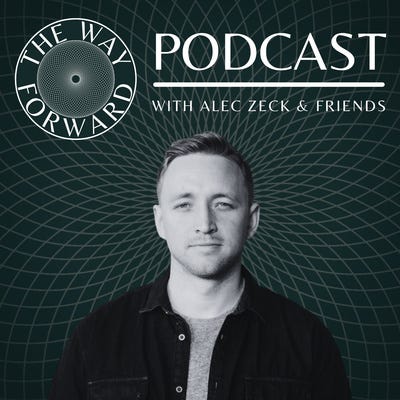 Feb 7, 2022 • 1HR 3M
(E40) The Nature of Reality with Dawn Lester & David Parker
The Way Forward podcast features conversations, interviews, panel discussions, and presentations with some of the most prominent leaders in mind-body-spirit wellness, oneness, free thinking, individual sovereignty, and living in service to others. The Way Forward is hosted by Alec Zeck, often featuring John Walker, Andrew Genovese, Chad Asana, Jacob Diaz, Christine Yole, and many others as co-hosts.
I'm sure by now, many of you are familiar with Dawn Lester and David Parker, authors of "What Really Makes You Ill? Why Everything You Thought You Knew About Disease Is Wrong." If you haven't read this book, I highly recommend heading to their website to order a copy and learn more about Dawn and David: https://whatreallymakesyouill.com/
For those of you who ARE familiar with Dawn and David, I'm sure you've wondered why two people with backgrounds in the fields of Accountancy and Electrical Engineering, respectively, came to immerse themselves in topics like virology, molecular biology, immunology, and other health related topics. What many don't know is that their exploration of these topics was the result of questioning the entire nature of reality.
Dawn and David have thoroughly explored consciousness, spirituality, energy, matter, and all other things relating to the fundamental aspects of our existence.
Join us on Monday the 7th of February at 9:00 AM CST for a nice change of pace from talking about disease, viruses, and vaccines!
For more on Dawn and David's work on The Nature of Reality, please visit: https://www.thenatureofreality.com
All episodes of The Way Forward podcast are recorded LIVE. Head to Sayer Ji's new platform, https://www.BESOVEREIGN.com to watch, comment, and even ask the guests questions live on air!