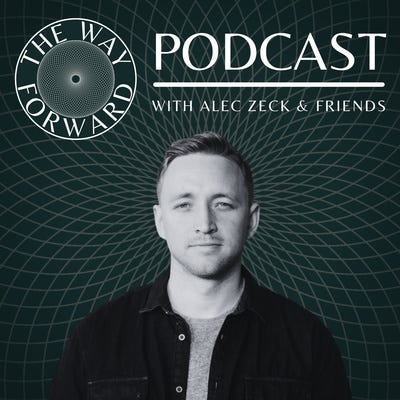 Sep 23, 2021 • 1HR 31M
(E38) Dr. Barre Lando & Mike Winner from Alfa Vedic: Solutions and Empowerment in a Mad, Beautiful World
The Way Forward podcast features conversations, interviews, panel discussions, and presentations with some of the most prominent leaders in mind-body-spirit wellness, oneness, free thinking, individual sovereignty, and living in service to others. The Way Forward is hosted by Alec Zeck, often featuring John Walker, Andrew Genovese, Chad Asana, Jacob Diaz, Christine Yole, and many others as co-hosts.
THE ALFA VEDIC VISION IS A COMPOSITE OF THE ECLECTIC EXPERIENCE OF ITS CO-FOUNDERS. EXPERTISE IN THE FIELDS OF MEDICINE, FARMING & NEXT-LEVEL DECENTRALIZED TECHNOLOGY ROUNDED BY ARTISTIC & ATHLETIC PURSUITS INFLUENCE ALL THAT WE DO.
ALFA VEDIC GARDENS IS THE BEDROCK THAT BOTH GROUNDS & TEACHES. ECOLOGICAL PRESERVATION IS A NECESSITY, AND EVERY FACET OF OUR OFF-GRID FARM & BUSINESS ADHERES TO THE PRINCIPLES OF PERMACULTURE DESIGN. ENVIRONMENTAL & SOCIAL DEGRADATION WILL CEASE WHEN COMMUNITIES SELF-DETERMINE THROUGH THE CONSCIOUS MANAGEMENT OF LOCAL RESOURCES. ALFA VEDIC IS A WORKING PROTOTYPE TO THIS END.
Dr. Lando is noted amongst his peers for his innovative clinical strategies, and developed an international following for people suffering from chronic degenerative conditions seeking his services as a Bioterrain Medicine and Functional Movement Specialist. In more recent years he earned his Master Gardener and Permaculture Design certification and presently oversees his off-grid medicinal herb farm, while teaching Biodynamic farming methods and Ionization Soil Analysis. Now retired from clinical medical practice he remains active in the internal martial arts, health consulting, creating formulations for his herbal company and developing innovative medical protocols based on the principles of Wave Form Physics.
Mike Winner is the co-founder and technical director for Alfa Vedic, an off grid farm and wellness co-op focused on innovative solutions for a new era of self-mastery, health independence and personal sovereignty. Mike, along with Dr. Barre Lando, hosts a weekly podcast called Alfacast that delves into a vast range of topics related to the new cutting-edge terrain of health freedom and spirit science. With a bachelor's degree in Film Studies and History from the University of California, Santa Barbara, Mike aims to elevate the conversation of global consciousness through captivating and positive story telling processes, new decentralised technologies and life changing health and freedom festivals where humans get to be humans again. Mike's unique perspectives and positive outlook on the current global situation is a refreshing breather from the often negative nihilistic take so common in today's materialistic world.
The Way Forward would like to thank our podcast sponsors Jack Henry Co, and Somavedic Technologies.
For natural, men's grooming products that don't have added junk (no greenwashing here), visit https://www.jackhenry.co and enter promo code TWF at checkout for 20% off.
EMF exposure is all around us! Need to harmonize your environment and limit the negative effects of EMFs? Check out https://www.somavedic.com. Somavedic technologies is backed by loads of science which can be found on their website. Enter promo code TWF at checkout for 10% off your order.