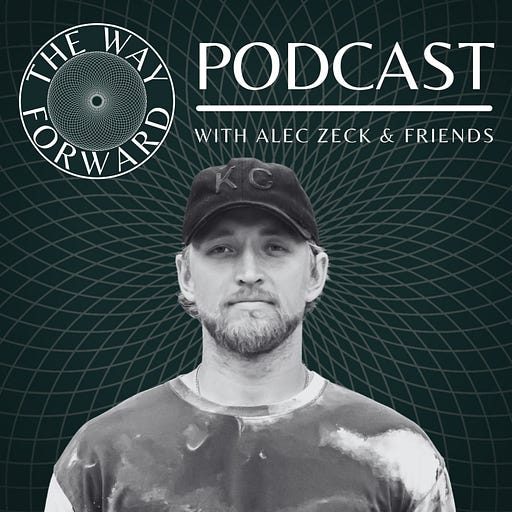 Aug 25, 2021 • 1HR 8M
(E35) Devon Graham (AKA The Black Airbender), Breatharianism and the Power of Breath
The Way Forward podcast features conversations, interviews, panel discussions, and presentations with some of the most prominent leaders in mind-body-spirit wellness, oneness, free thinking, individual sovereignty, and living in service to others. The Way Forward is hosted by Alec Zeck, often featuring John Walker, Andrew Genovese, Chad Asana, Jacob Diaz, Christine Yole, and many others as co-hosts.
Devon Graham, aka the Black Airbender, is the pioneer of Alchemy Breathwork, a technique that utilizes nose-only breathing to activate the parasympathetic nervous system. In this episode we discussed breatharianism, or the ability to not eat any physical food (what?!), a certain type of controversial therapy, and the importance of focusing on the breath for wellness. 
The Way Forward would like to thank our podcast sponsors Jack Henry Co, Joey's Hot Sauce, and Somavedic Technologies.
For natural, men's grooming products that don't have added junk (no greenwashing here), visit https://www.jackhenry.co and enter promo code TWF at checkout for 20% off.
Looking for a great organic, sugar-free hot sauce? Maybe some truffle hot sauce? Check out https://www.joeyshotsauce.com and enter promo code TWF for 20% off your order.
EMF exposure is all around us! Need to harmonize your environment and limit the negative effects of EMFs? Check out https://www.somavedic.com. Somavedic technologies is backed by loads of science which can be found on their website. Enter promo code TWF at checkout for 10% off your order.