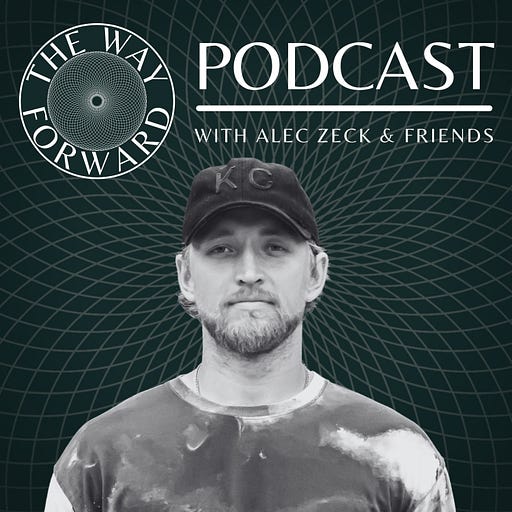 Aug 20, 2021 • 1HR 28M
(E34) Alec Zeck, Oneness and Our Right to Be Free - S2E14
The Way Forward podcast features conversations, interviews, panel discussions, and presentations with some of the most prominent leaders in mind-body-spirit wellness, oneness, free thinking, individual sovereignty, and living in service to others. The Way Forward is hosted by Alec Zeck, often featuring John Walker, Andrew Genovese, Chad Asana, Jacob Diaz, Christine Yole, and many others as co-hosts.
Decided to switch it up for #34 and feature an episode in which I (Alec) do the majority of the talking!
This episode was originally featured of Alfa Vedic's Alfacast podcast. Mike Winner and Dr. Barre Lando are amazing hosts with a breadth of knowledge on a number of topics that I'm also interested in, so this conversation was super easy and free flowing. Hope you enjoy it!
Alec Zeck is a speaker, writer, mind/body/spirit coach, and former Army Captain. He is the Executive Director and Founder of Health Freedom for Humanity, a non profit whose mission is to unite people from all walks of life under one common purpose: the reclamation and defense of health freedom, and the Co-founder of The Way Forward.
Alec's work is centered on the notion that the universe is one being that is exploring itself in an infinite for the purpose of self-realization. With this context, his speaking and writing spans the spectrum of mind/body/spirit wellness, the Law of One, reconnecting with nature, childhood trauma healing, natural health, and identifying and mitigating the effects of oppressive systems.
Alec received his B.S. in Systems Engineering from the United States Military Academy at West Point.
The Way Forward would like to thank our podcast sponsors Jack Henry Co, Joey's Hot Sauce, and Somavedic Technologies.
For natural, men's grooming products that don't have added junk (no greenwashing here), visit https://www.jackhenry.co and enter promo code TWF at checkout for 20% off.
Looking for a great organic, sugar-free hot sauce? Maybe some truffle hot sauce? Check out https://www.joeyshotsauce.com and enter promo code TWF for 20% off your order.
EMF exposure is all around us! Need to harmonize your environment and limit the negative effects of EMFs? Check out https://www.somavedic.com. Somavedic technologies is backed by loads of science which can be found on their website. Enter promo code TWF at checkout for 10% off your order.