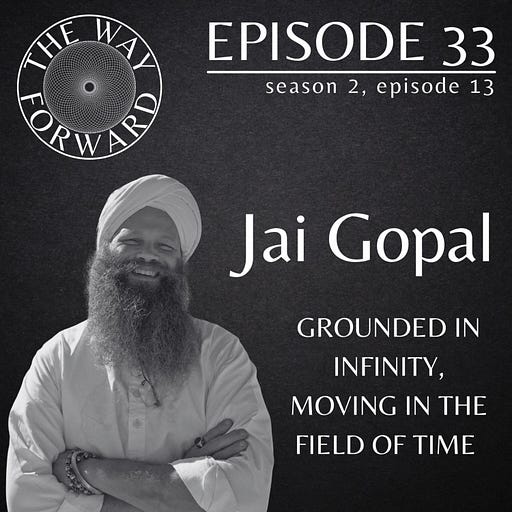 Aug 11, 2021 • 1HR 42M
(E33) Jai Gopal: Grounded in Infinity, Moving in the Field of Time
The Way Forward podcast features conversations, interviews, panel discussions, and presentations with some of the most prominent leaders in mind-body-spirit wellness, oneness, free thinking, individual sovereignty, and living in service to others. The Way Forward is hosted by Alec Zeck, often featuring John Walker, Andrew Genovese, Chad Asana, Jacob Diaz, Christine Yole, and many others as co-hosts.
Jai Gopal likes to call himself the most unlikely yogi.  He was born in New York City, raised in The Bronx and then Queens with conservative parents, a NYPD homicide detective stepfather and Nurse mother.  He attended West Point, The United States Military Academy and then served five years as an army artillery officer during operation desert storm.  After leaving the army he moved to Los Angeles to pursue writing and that's where Kundalini Yoga found him.  He fell in love with Kundalini Yoga after experiencing how quickly the technology works to move one mentally and physically to their optimum state of flow, which leads directly to the soul.  After meeting his teacher, Harijiwan, Jai Gopal became dedicated to experiencing the teachings and sharing them with others.  Practicing and teaching Kundalini Yoga for nearly twenty years, he very much enjoys exploring and sharing the pure teachings of the lineage.
The Way Forward would like to thank our podcast sponsors Jack Henry Co, Joey's Hot Sauce, and Somavedic Technologies.
For natural, men's grooming products that don't have added junk (no greenwashing here), visit https://www.jackhenry.co and enter promo code TWF at checkout for 20% off.
Looking for a great organic, sugar-free hot sauce? Maybe some truffle hot sauce? Check out https://www.joeyshotsauce.com and enter promo code TWF for 20% off your order.
EMF exposure is all around us! Need to harmonize your environment and limit the negative effects of EMFs? Check out https://www.somavedic.com. Somavedic technologies is backed by loads of science which can be found on their website. Enter promo code TWF at checkout for 10% off your order.