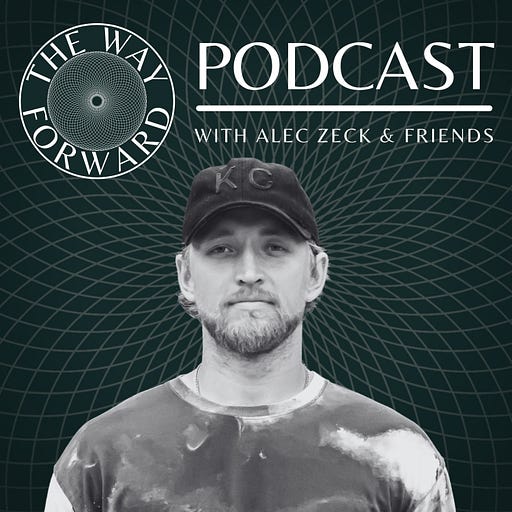 Aug 4, 2021 • 1HR 21M
(E32) Dr. Stanton Hom, Reimagining Health for Future Generations - S2E12
The Way Forward podcast features conversations, interviews, panel discussions, and presentations with some of the most prominent leaders in mind-body-spirit wellness, oneness, free thinking, individual sovereignty, and living in service to others. The Way Forward is hosted by Alec Zeck, often featuring John Walker, Andrew Genovese, Chad Asana, Jacob Diaz, Christine Yole, and many others as co-hosts.
Dr. Stanton Hom - DC, DACCP, CCWP is the
Founder of Future Generations: a global movement normalizing vibrant health for life by providing freedom focused care and education so we can experience our innate genetic potential.
Together, he and his team have built one of the top clinics in the world through their innovative and against the grain approach that catalyzes radical healing of chronic health issues in patients of all ages.
After graduating from the United States MilitaryAcademy at West Point and earning a bachelors of science in Chemistry/Life Science/Pre-Medicine, Dr.Stanton was fortunate enough to be selected for an internship at Walter Reed Army Medical Center.
Upon completion of Los Angeles College of Chiropractic in 2010, he has since served the San Diego community with vitalistic chiropractic care, specializing in the whole family from preconception through birth, infants, childhood and beyond.
His own self-healing has inspired him to take on a new mission of chiropractic that eventually led to a breakthrough method in 2013 that he now teaches to an international community called "Freedom FocusedCare."
As the Host of the Future Generations Podcast, an informed dad and prenatal/pediatric chiropractic specialist, he leads a worldwide movement that stands for Health Freedom for All Generations.
For more on Stanton:
Becoming a founding member of the Future Generations Community: https://thefuturegen.com/community
Podcast: https://thefuturegen.com
Practice: https://www.futuregenerationsSD.com
The Way Forward would like to thank our podcast sponsors Jack Henry Co, Joey's Hot Sauce, and Somavedic Technologies.
For natural, men's grooming products that don't have added junk (no greenwashing here), visit https://www.jackhenry.co and enter promo code TWF at checkout for 20% off.
Looking for a great organic, sugar-free hot sauce? Maybe some truffle hot sauce? Check out https://www.joeyshotsauce.com and enter promo code TWF for 20% off your order.
EMF exposure is all around us! Need to harmonize your environment and limit the negative effects of EMFs? Check out https://www.somavedic.com. Somavedic technologies is backed by loads of science which can be found on their website. Enter promo code TWF at checkout for 10% off your order.