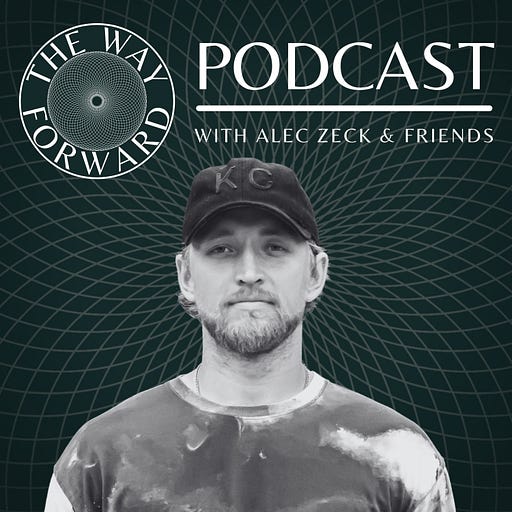 Jul 7, 2021 • 1HR 14M
(E28) Dr. Edith Ubuntu Chan: Health, Meditation, and The State of Being - S2E8
We're charting the path towards, health, freedom, and awareness for all of mankind. For more information, visit http://thewayfwrd.com
Dr. Edith Ubuntu Chan, L.Ac. is a doctor of Chinese Medicine and Acupuncture and author of the Amazon #1 bestselling book SuperWellness. As a practitioner, she's known for her extraordinary success helping athletes achieve optimal health and high performance.  Dr. Edith is also a teacher of Meditation & Consciousness, a Level III practitioner of The Reconnection and a High Performance Coach. In addition to Holistic Medicine, Dr. Edith has devoted her life to exploring the frontiers of our human potential.  (Check out her podcast - "The Dr. E Show.")  Dr. Edith's academic background includes a Doctoral Fellowship at Five Branches University (specializing in Endocrinology and Neuromuscular Medicine), a four-year graduate degree from American College of Traditional Chinese Medicine, and a bachelors in Applied Mathematics with magna cum laude from Harvard University. As a TCM practitioner, she worked and trained in a variety of hospital and clinical settings. Her manual therapy skills were founded upon a rigorous traditional apprenticeship with Master Yu-Tai Fu, award winning Qigong master and traditional "bonesetter" from Beijing. Throughout the years, Dr. Edith was fortunate to study with other legendary Masters, while leveraging her scientific background to demystify this beautiful ancient medicine for her patients. In addition to her medical training, Dr. Edith's practice is also informed by her background as athlete & coach, her passion for Yoga, Qigong, and Breathwork, her training in The Work of Byron Katie, and the powerful, mystical gifts of long-term Meditation practice.
The Way Forward would like to thank our podcast sponsors Jack Henry Co, Joey's Hot Sauce, and Somavedic Technologies.
For natural, men's grooming products that don't have added junk (no greenwashing here), visit https://www.jackhenry.co and enter promo code TWF at checkout for 20% off.
Looking for a great organic, sugar-free hot sauce? Maybe some truffle hot sauce? Check out https://www.joeyshotsauce.com and enter promo code TWF for 20% off your order.
EMF exposure is all around us! Need to harmonize your environment and limit the negative effects of EMFs? Check out https://www.somavedic.com. Somavedic technologies is backed by loads of science which can be found on their website. Enter promo code TWF at checkout for 10% off your order.