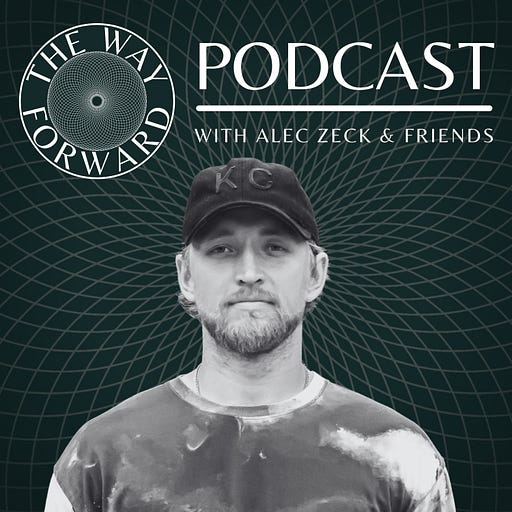 May 26, 2021 • 1HR 1M
(E22) JP Sears, Censorship is a Big Joke! - S2E2
The Way Forward podcast features conversations, interviews, panel discussions, and presentations with some of the most prominent leaders in mind-body-spirit wellness, oneness, free thinking, individual sovereignty, and living in service to others. The Way Forward is hosted by Alec Zeck, often featuring John Walker, Andrew Genovese, Chad Asana, Jacob Diaz, Christine Yole, and many others as co-hosts.
JP Sears is a comedian who tours the country extensively doing stand-up comedy and publishing weekly online videos. His videos have been viewed more than 500 million times. In addition to inspiring laughter in a weird world, JP's work takes an unapologetic stand for freedom, free speech, and encouraging people to free themselves from fear.
JP lives in Texas because of FREEDOM! There he's set a world record for how much he loves his family. When he's not making videos or performing on stage, JP spends his time passionately playing all out, scaring himself daily, and choosing to live guided by his own free will.
The Way Forward would like to thank our podcast sponsors Jack Henry Co, Joey's Hot Sauce, and Somavedic Technologies.
For natural, men's grooming products that don't have added junk (no greenwashing here), visit https://www.jackhenry.co and enter promo code TWF at checkout for 20% off.
Looking for a great organic, sugar-free hot sauce? Maybe some truffle hot sauce? Check out https://www.joeyshotsauce.com and enter promo code TWF for 20% off your order.
EMF exposure is all around us! Need to harmonize your environment and limit the negative effects of EMFs? Check out https://www.somavedic.com. Somavedic technologies is backed by loads of science which can be found on their website. Enter promo code TWF at checkout for 10% off your order.