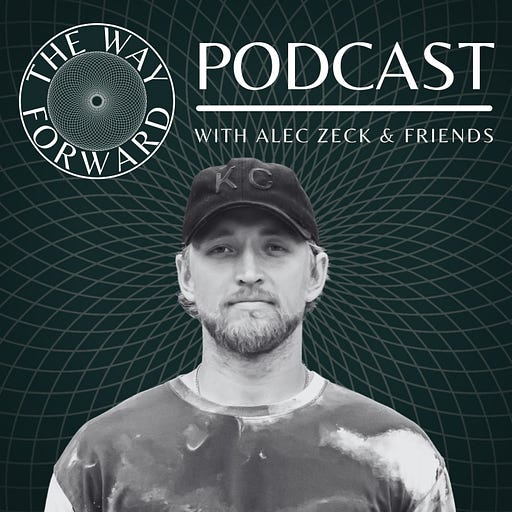 Nov 25, 2020 • 1HR 13M
(E14) Aaron Abke, Self Realization & The Law of One
The Way Forward podcast features conversations, interviews, panel discussions, and presentations with some of the most prominent leaders in mind-body-spirit wellness, oneness, free thinking, individual sovereignty, and living in service to others. The Way Forward is hosted by Alec Zeck, often featuring John Walker, Andrew Genovese, Chad Asana, Jacob Diaz, Christine Yole, and many others as co-hosts.
Aaron Abke is a spiritual counselor, & Self Realization Teacher. Aaron's passion is to share the path inner freedom and self realization with the world, and he does so today via YouTube, Social Media, Meditation classes, workshops and seminars. Aaron believes that lasting joy and peace are everyone's birthright and are attainable for anyone who truly desires them. In teaching Self-Empowerment, Aaron's main areas of focus are understanding the Ego, Self Love, Forgiveness and inner Peace. Additionally, and this is my addition to his bio- Aaron is go to expert for the Law of One. When I first started reading the law of one, I actually turned to some of Aaron's videos to break down some of the tougher concepts to grasp in the law of one- so it's pretty rad that I've been able to connect with him a couple of times and have him on my show. Enough of that, let's get into the episode.
For more on Aaron, please visit: https://www.aaronabke.com
Follow Aaron on social media!
Youtube: https://www.youtube.com/channel/UC867Q451mPjjD52peYqpF4A
Instagram: https://www.instagram.com/aaronabke
Facebook: https://www.facebook.com/aaronscottabke/